2019 at GeoPal - The Year in Review
With the holiday season upon us, it is a time to look back and celebrate the progress achieved throughout the year. More importantly, it is a time to recognise the consistent hard work of our employees, partners and customers  alike, and to make plans and preparations for the coming year. Pictured below is just some of our team from the Dublin office recently celebrating the years achievements at our annual Christmas party.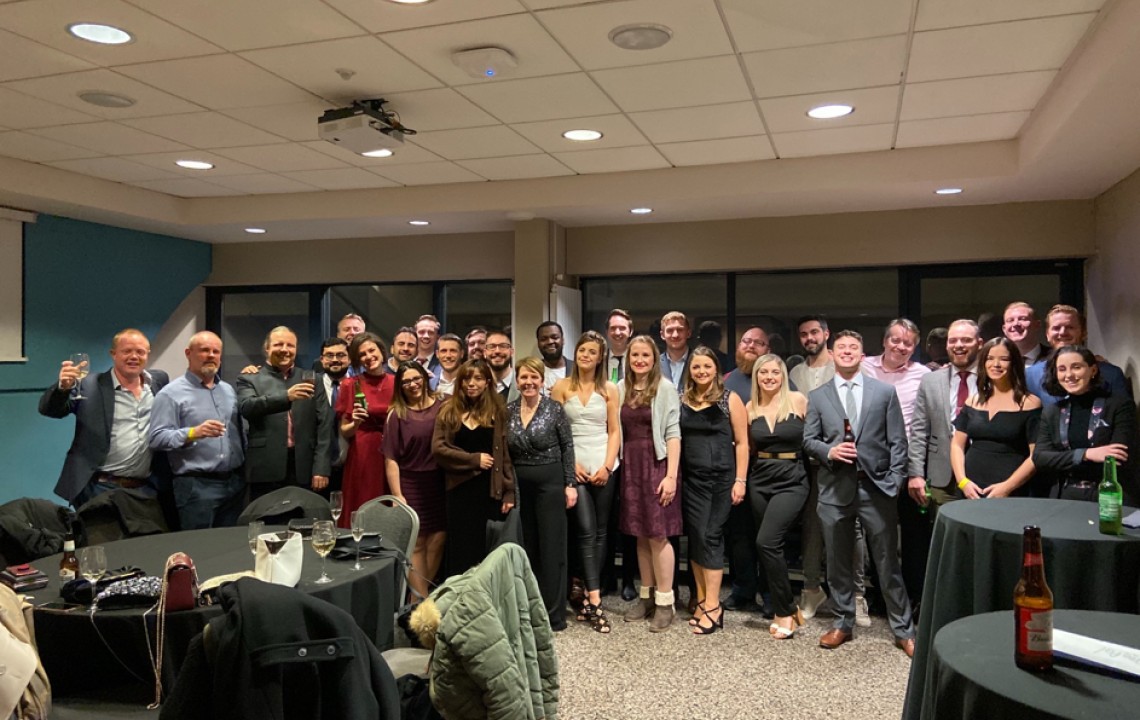 2019 has been another incredible year for GeoPal - in fact, our most successful year to date. Our customer base has significantly increased throughout the year and not only has our team doubled in size to support this growth (we are still recruiting - view our current vacancies here), we have also expanded our office space to cater for the constantly growing team and customer base. Our Mobile Workforce Management Solution has been internationally recognized by multiple awarding bodies throughout 2019.
Below is a look back at some of our highlights from 2019:
New customers:
In 2019 we welcomed several new customers to GeoPal across a number of industries including Utilities Services, Industrial Support Services and Facilities Management, each with a specific requirement for a Field Operations Solution like GeoPal. 
Partners:
Landis + Gyr:
In 2019 we further strengthened our partnership with Landis+Gyr by enhancing our offering for smart metering field operations management by developing a GeoPal (DLMS/COSEM) interface to allow the GeoPal Mobile App to communicate directly with the Smart Meter.
IBM Maximo:
GeoPal is now an IBM Partner. GeoPal now connects to IBM's Enterprise  Asset Management (EAM) software Maximo. GeoPal and Maximo combined offers a fully comprehensive solution for managing physical assets in asset-intensive field operations arenas.
Oracle NetSuite:
GeoPal is now listed on the NetSuite SuiteApp Store. The GeoPal  Field Operations Management Mobile Application solution is designed to integrate effortlessly with NetSuite, providing a communication channel between the back office and the front lines.
SAP:
SAP is the market leader in enterprise application software, helping companies of all sizes and all industries run at their best: 77% of the world's transaction revenue touches an SAP system. GeoPal is now an official SAP Partner and listed on the SAP PartnerEdge App store. Again the GeoPal  Field Operations Management Mobile Application solution is designed to integrate effortlessly with SAP, providing a vital communication channel between the back office and the front lines.
Leica:
You may have seen some information on our partnership with Leica Geosystems during the summer, a partnership aiming to add high accuracy to mobile operations, drive efficiency, productivity, ensure safety benefits for users - you can read the full article on our blog. ​
O2 Telefonica:
O2 Telefonica is a leader in digital communications, with over 23 million customers. O2 Telefonica runs 2G, 3G and 4G networks across the UK. O2 are promoting the GeoPal mobile workforce management solution to their Industrial Services clients across the UK.
ESRI ArcGIS:
ArcGIS is a mapping and analytics platform, offering unique capabilities and flexible licensing for applying location-based analytics to business practices. We have integrated our GeoPal Field Operations Management solution with ArcGIS, providing ArcGIS clients with a platform for managing Work Orders – capturing Labour Hours, Materials Usage and Plant Usage – as well as updating map assets from the field.
 

Awards:
GeoPal has achieved success and recognition from multiple awarding bodies over the last number of years and this year has been no different. Below are some of the many awards and nominations received in 2019:
National Technology Awards:
GeoPal was honoured as a double finalist in the UK National Technology Awards 2019, we were shortlisted for two categories: Best Enterprise Project and Best Construction Technology of the Year. The National Technology Awards are the most comprehensive celebration of technology in the year, organised by National Technology News.
Building Innovation Awards:
The first ever Building Innovation Awards took place on Wednesday Oct 23rd at a sold out Midland Hotel in Manchester - celebrating the most innovative products, projects, services & technologies reshaping the UK construction sector. On the night, GeoPal was shortlisted as a finalist for two award categories; Best Planning Innovation and Best Asset Management Innovation. We were extremely proud to be awarded Best Planning Innovation, amongst some incredible competition.
London Construction Awards:
The London Construction Awards recognise achievements, developments and innovation within London's booming construction industry and feature a wide range of categories for solution providers, contractors, architects, civil engineers, developers and local authorities. GeoPal was shortlisted as finalists for four award categories including: 
 

ISO Accreditations:
ISO and Cyber Essentials:
GeoPal recognizes the importance of information security and quality assurance. Accordingly, we are proud to announce that we have been accredited with the following ISO standards; (with more to follow in the new year).
ISO/IEC 27001 Certified which deals with Information security management.

ISO/IEC 22301 Certified which deals with Business continuity management.

ISO/IEC 27017 Compliant which deals with a Code of practice for information security controls based on ISO/IEC 27002.

ISO/IEC 27018 Compliant which deals with a Code of practice for protection of personally identifiable information (PII).

Cyber Essentials Compliant: Cyber Essentials is a UK developed but globally recognised IT security standard, used to give comfort to wider industry that basic levels of IT related security are being met. It covers five key control areas which can protect organisations from possible data breaches and leaks. These are; boundary firewall and internet gateways, secure configuration, access control, malware protection and patch management and software updates.
 

Product Updates:
Work Order Cost Management:
We have added new Cost Management functionality to GeoPal providing our customers with end-to-end visibility of their contract performance. Now when Work Orders are dispatched, the field teams follow workflows on the GeoPal mobile app, prompting them to capture labour hours, materials and plant usage, sub-contractor details and so on. This provides management with a full cost profile  – enabling them to see an indicative margin analysis per Work Order.
Advanced Activity Planner:
We have also added a new Activity Planner to GeoPal. This planner has a split-screen view, allowing planners to view jobs in a timeline view and a map view at the same time. When jobs are dragged and dropped onto the planner, GeoPal calculates the travel time to the job and blocks off that time on the planner. We have added the concept of depots – so that field workers can be scheduled for the deport they are assigned to. We have also added shift-patterns to show when field workers are available and a calendar view to block off time for holidays, training and so on.
Projects, Stores and Cabinets:
We have added Projects to GeoPal. Projects are containers that group multiple sub-jobs together. Each Project can also store the relevant documents for each task, such as utility maps, risk assessments, photos and so on. Stores are custom databases that our customers can now use to store custom data records for each job. These custom databases are also accessible from the mobile app. Finally, Cabinets have been added which are a new document storage system on GeoPal.
Webinars:
GeoPal Webinar Series:
GeoPal is pleased to announce the launch of a new initiative this year - the monthly webinar series. The webinar series supports and encourages clients to optimize their experience using GeoPal solutions, through the provision of live demonstrations, invaluable insights and the opportunity for Q&A. We invite you to join our monthly webinar, covering fundamental topics such as:
2019's Most Popular Blog Posts:
We hope you found the GeoPal blog insightful, relevant and engaging throughout 2019. For the new year, we plan to continue providing regular content on industry and solution advancements, as well as GeoPal news and updates. Before then, let's take a look back at some of our most engaging blog posts of 2019.