BUSINESS INTELLIGENCE – AN ESSENTIAL FOR FIELD OPERATIONS MANAGEMENT SOFTWARE
Software tools to help companies manage field staff are in increasing use.  These are often called Field Operations Management (FOM) Applications.  A key success factor in any FOM Application is its Business Intelligence (BI) capabilities.
BI Applications in relation to Field Operations are visually appealing data visualizations such as dashboards that deliver Actionable Insights from (field) data. Actionable Insights is a term that is used for information that gives a view into the past / future such that the required actions that need be taken are clear.
The dashboards generated by a BI Application can be used for a wide variety of uses across an entire organisation from strategic planning; business planning; budget tracking; resource tracking to day to day views of field worker performance, productivity and efficiency.   
A class leading FOM system coupled with a state of the art adaptable BI Application can quickly analyse large volumes of complex and detailed data for anomalies, exceptions, correlations and trends, without having to invest large amounts of (manual ) effort and time analysing data in spreadsheets or writing bespoke, inflexible reports that can become outdated quickly. Valuable management time can now be used to focus on these BI delivered Actionable Insights and where required changes can to be made to adapt quickly to changing circumstances.
Increasingly users want more information and control over how they access, analyse, present and share the Actionable Insights from BI Applications. This also includes a BI Application combining field data with other company (field data ) data for example from existing backend systems e.g. CRMs and ERPs. The resultant combination can be very powerful delivering a company-wide view of all data that heretofore was not possible.
The growing number of BI users are spread across the entire organisation from executives, to field mangers and field technicians. All staff can now use BI Applications to analyse data in real time and deliver Actionable Insights. For example it is critical for senior management to have BI driven Actionable Insights into operational data to gain visibility into revenues, costs, margins and profitability across the entire business
Operations management staff need real time Actionable Insights into many areas for example billing, costs and margins. For example, show in real time the number of projects and list them showing revenue, cost and margins.  BI Applications can also help managers in tracking any field metric, for example in tracking deviations from SLA, average repair times, and underutilised staff. For example an Operations manager can see new projects on their dashboard (on a PC or Mobile device) and can alternate to another BI view to see what capacity exists, and act on required capacity planning if needed. 
Now that mobility is an important part of field operations all field information can be gathered in real time. Field Technicians can directly benefit from BI Applications on their Mobile Device. For example by seeing real time Actionable Insights of their time usage (planned vrs actual).
GeoPal and BI
The GeoPal Field Operations Management (FOM) Solution can embed and interwork seamlessly with the leading BI Applications providing a 360 degree view of all Field Operations metrics. Furthermore using GeoPal's extensive APIs GeoPal can combine field data with other company (non-field ) data for example from existing backend systems e.g. CRMs and ERPs. The combination delivers a company-wide view of all data. Following are some examples of GeoPal FOM and BI solutions :
An example is shown below of a GeoPal BI dashboard for tracking street works. This will identify any anomalies, exceptions, correlations and positive/negative trends.
GeoPal BI dashboard showing the Measured Works, Earned Value and Margin
Show Earned Value calculated from a Schedule of Rates (SOR). Each SOR line item relates to a different piece of work, e.g. everything from digging trenches, installing sub ducts, rodding ducts, pulling fibre, installing distribution boxes on poles, chambers in the ground)
A GeoPal measured Works data capture template that prompts the field supervisor to enter the quantities for each measured work item (MWI) completed.
Other GeoPal data capture templates are used to capture other costs e.g.:


A timesheet template will capture their direct labour cost.
A template to note other costs such as plant hire, fuel, sub-contractors, materials.
Other costs can also be imported from other systems via API as required

Multi-excel report, which adds up the quantities per line item for all jobs between a date range and multiplies this by the unit price to generate a figure for the amount to be charged to the utility company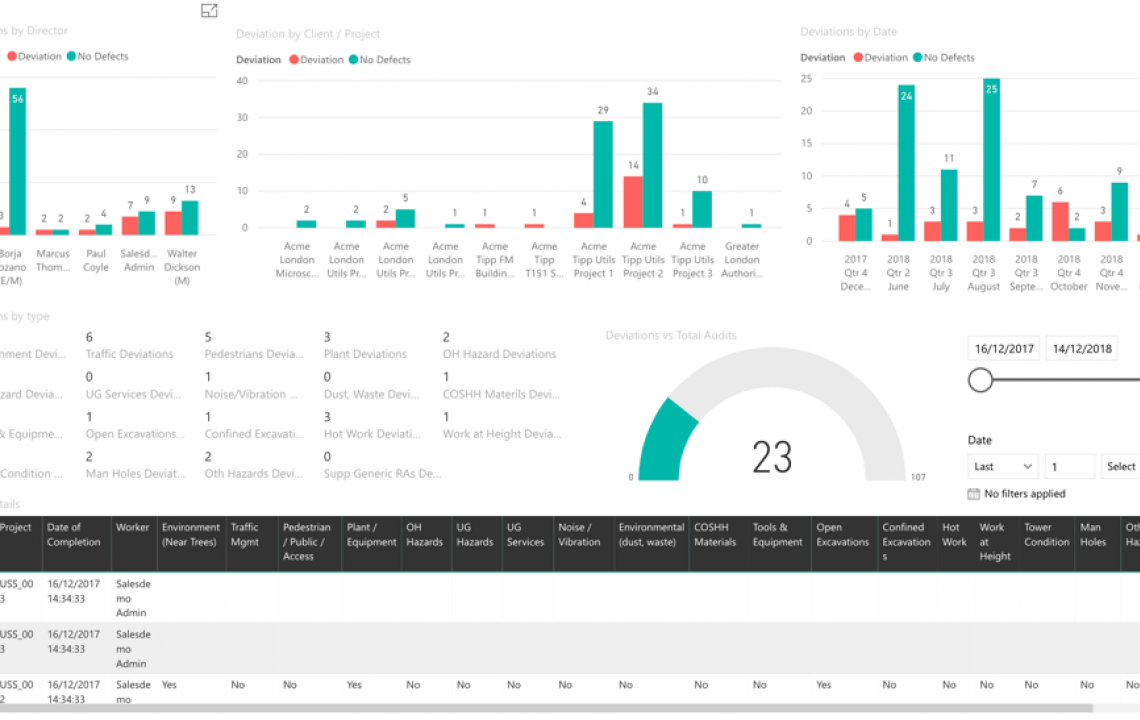 GeoPal BI for Facility Management
An example is show below of a GeoPal BI screen for Facility Management
Again GeoPal can support any number of metrics and forms for Facility Management from the simplest to the most complicated. With a simple click a user can drill down into submitted Risk Assessment forms any deviations and sort/filter by:
Location (buildings/sites)
Customer
Condition
Time
Deviations from SLA
For example below there is an asset status  score used from 1 to 100 that equates to
Average
Excellent
Good
Poor
By drilling down all the FM survey data would be available including  photos and videos.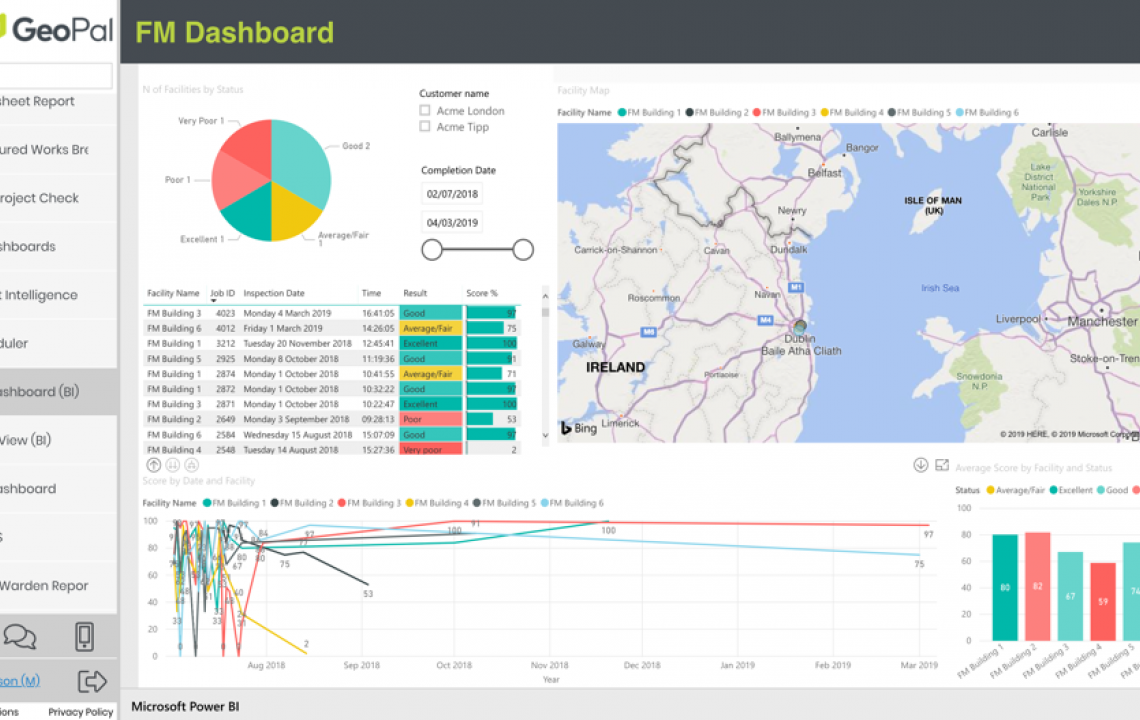 GeoPal BI for IoT Management
An example is show below of a GeoPal BI screen for the Management of IoT sensors
Here we can see at a glance:
When sensors were activated
Where they are
How many lead to maintenance jobs being dispatched
With a simple click a user can drill down into any jobs automatically created by the IoT sensor and sort/filter by:
Location (buildings/sites)
Customer
Condition
Time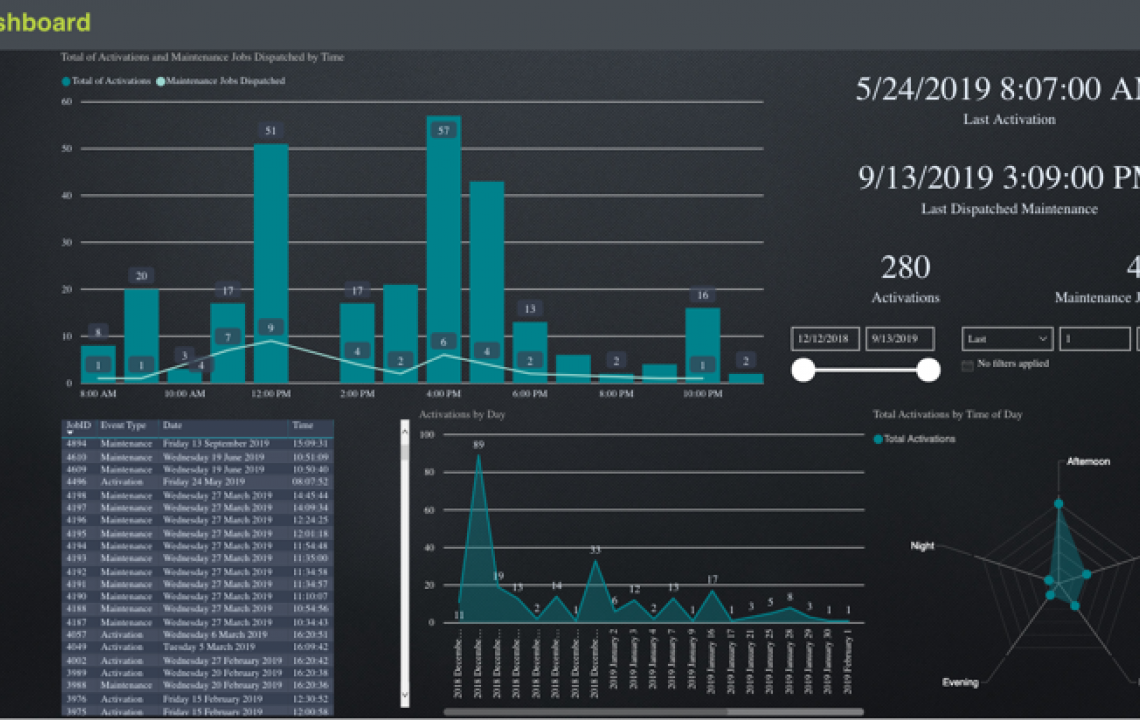 Summary – Advantages of BI
No more paper, spreadsheets or bespoke inflexible reports
Gain Actionable Insights into any area with any set of metrics. Decisions can now be based on real-time information
The presentation of data in a BI dashboard can be customised to make it easy to understand and to drill down into any data collected. The graphical interface can make analytics meaningful and simpler to assess and understand.
Real time alerts for any high deviations as required.
Shared with other team members. Every member of your organization access to a BI Application
You can extract and combine Field Data with multiple (non-field) data sources simultaneously (e.g. CRMs and ERPs)
Full online access to historical records
About GeoPal
GeoPal helps its clients achieve operational excellence using the management insights we deliver through our mobile data capture and analytics solution. GeoPal is a customisable Field Operations Management (FOM) Solution that connects field workers, remote assets and Internet Of Things (IOT) sensors, leveraging field data to gain real-time actionable insights and increase the productivity, profitability and health and safety compliance of your business. GeoPal's client list includes some of the largest Industrial Services, Utility Services, City Management, Environmental and Facilities Management companies in the world. The GeoPal solution delivers transformative operational efficiencies through the data insights we provide.